Our online Thai massage training suite allows us to share additional aspects of our practice with you no matter where you are in the world. These trainings are specifically designed for existing Thai massage practitioners (and some for yoga teachers). It's not essential that you've previously studied with us at Navina™, but it is essential to have some degree of in-person training in Thai massage. We are constantly bringing more online content to you in order to support your continuing education.
Thai Massage At Home:
Thai Massage is something that can benefit us all. Learning a handful of selected techniques can transform our communication skills with those around us, enhance relationships and of course, naturally reduce stress and tension. This is the perfect way to be introduced to more compassionate touch in your everyday. No prior massage experience necessary. Click this link to register for the next round. We open up the course periodically to ensure we're all working together and to make sure we're readily available for support.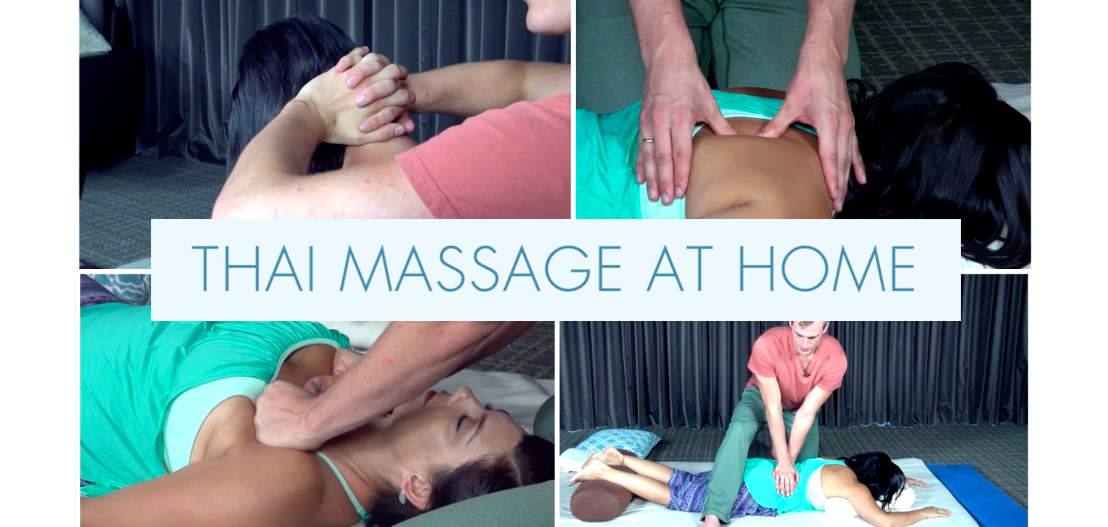 Investment: $149USD. Access: Full & Unlimited
---
Introduction to Thai Yoga Stretching for Exercise Professionals:
Within this course you have access to incredibly practical tools to use on your personal training clients, group class participants and other fitness professionals. Each technique can be utilized in isolation or together as a full sequence and a more therapeutic experience. This specialty offering contains 45 minutes of video footage, along with a 33 page written manual to consolidate and deepen knowledge for each technique. This course is specifically designed with fitness professionals in mind and it is highly recommended that you have a background in health and fitness prior to engaging in this course. Click this link to take the course, or click on the image below.
Investment: $129. Access: Full & Unlimited
---
Savasanahhh:
This online training gives you the tools for running specific workshops that blend Thai massage and restorative yoga. We like to call them "Savasanahhh"! This suite contains 3hrs 40mins of video footage along with 37 pages of written content. Yoga teachers and Thai massage practitioners are well equipped for this training, yet anyone with an interest in Thai massage or running these specific workshops is welcome to join us. It is designed to be digested over time, so please don't feel rushed to complete it within any specific time-period. Access the training by clicking the image below, or by following this link. We'll also be adding more content over time that you will gain access to.