Online courses allow you to dive into studying with us, both getting a taste for the Navina philosophies, and also seeing how we create and structure education – no matter where you live in the world. Online coursework is also a great opportunity to meet your continuing education requirements (whether with us or with another educational institution).
Intro to Anatomy & Physiology
Registration opens again May 27, 2020!
Ready to study A&P?! This resource is the "long-game" course that gets you set up with the essentials in the field of human biology. The foundational information presented here sets you up for deeper exploration into the ways the body moves, how we can assess it, how we can rehabilitate it, what pain signalling means (and what it doesn't), how we can reduce and remove pain, and essentially how to help ourselves and our people move the best and feel the best they can. Contained within this course is 6 full lectures plus bonus content.
Click Here for More information & Pricing
---
A&P: Shoudler Girdle Therapeutics
Registration opens again in April 26, 2020!
This course is a real deep-dive into the shoulder girdle – an area of the body that commonly gets injured and re-injured over time. And so, especially if you're working with people in a therapeutic context, this course is going to greatly expand your toolkit; making your work that much more effective. In the course, we focus primarily on the two main joints of the shoulder complex (the scapulocostal and glenohumeral joints) and we not only assess movement, we also go through application of self-release techniques, muscle isolation movements, and reintegration movements as well in order to provide the trifecta for rehabilitation/prehab.
Click Here for More information & Pricing
---
Thai Massage At Home:
Access is evergreen! Jump in now.
Learning a handful of selected techniques can transform your communication skills with those around you, enhance relationships and of course, naturally reduce stress and tension. This is the perfect way to be introduced to the practice, with the flexibility of learning from home.
Get a family member or friend to join you in this experience – that way you can also practice on one another.
Click Here for More information & Pricing
---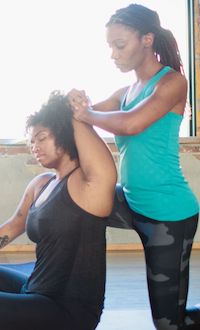 Intro to Thai Yoga Stretching for Exercise Professionals
Access is evergreen (for now)! Jump in now.
Within this course you have access to incredibly practical tools to use on your personal training clients, group class participants and other fitness professionals. This course is specifically designed with fitness professionals in mind and it is highly recommended that you have a background in health and fitness prior to engaging in this course.
Click Here for More information & Pricing
---
Thai Massage + Restorative Yoga
Access is evergreen (for now)! Jump in now.
This online training gives you the tools for running specific workshops that blend Thai massage and restorative yoga. We like to call them "Savasanahhh". Part of the benefit of this work is grounded in creating safe spaces for those in a yoga practice.
If you've been looking into studying Thai massage, but you've been unsure how it will apply to your yoga teaching practice, this is the course you need.
Click Here for More information & Pricing
---